Size Chart - How To Measure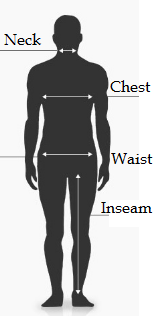 Hold the tape firm, but not tight.
NECK:
Place the tape around the neck. Set the tape low in the back of the neck, bring it around the front where the collar will button. Add 1/2" to your neck.
Chest:
Measure around the fullest part of your chest. Keep the tape level under your arms and accross your back.
Waist:
Measure around your natural waistline.
Inseam:
Measure from the crotch to the ankle.
Big & Tall Sizing Chart

Sizing Chart

Tall Sizes

Neck

Chest

Waist

LT
16-16.5
42-44
36-38
XLT
17-17.5
46-48
40-42
2XT
18-18.5
50-52
44-46
3XT
19-19.5
54-56
48-50
4XT
20-20.5
58-60
52-54
5XT
21-21.5
62-64
56-58
6XT
22-22.5
66-68
60-62
Big Sizes
Neck
Chest
Waist
1X
17-17.5
46-48
42-44
2X
18-18.5
50-52
46-48
3X
19-19.5
54-56
50-52
4X
20-20.5
58-60
54-56
5X
21-21.5
62-64
58-60
6X
22-22.5
66-68
62-64
7X
23-23.5
70-72
66-68
8X
24-24.5
74-76
70-72
10X
26-26.5
82-84
82-84